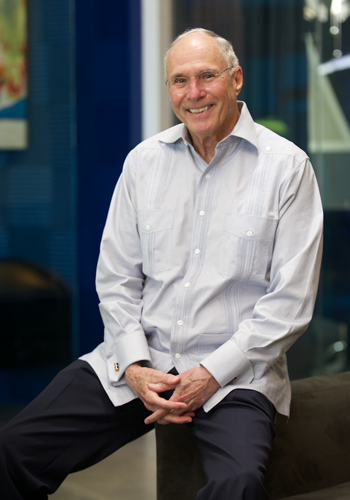 Bill helped found Ocean Azul Partners, which is dedicated to using proven investment methodologies and risk management strategies for success, including identifying and engaging talent; supporting entrepreneurs through the entire business growth cycle; nurturing relationships; focusing on teamwork; and continually providing value propositions to founders, management and investors. By being an early investor in several emerging companies, Bill understands the commitment and time required for successful capital events.
A condensed list of investments, where Bill was actively involved, includes Adjoined Consulting, Inc. (sold to Kanbay, Inc. for $165 million), PBS&J, Inc. (sold to Atkins for $280 million), MAKO Surgical, Corp. (sold to Stryker for $1.6 billion). He was an early investor in KOS Pharmaceutical, Inc. (sold to Abbott for $3.7 billion), Virtustream, Inc. (sold to Dell EMC for $1.2 billion), Greensmith Energy Management (sold for $180 million), and UnitedLex, Inc. (shares being acquired by a VC at an 11x return). He continues to be involved in emerging companies NV5 Global, Inc., Itopia, Inc., Clarke Industrial Engineering, Inc., Auxis, Inc. and Coral Gables Trust Company.
Bill is a CPA and retired as the managing partner of the Florida, Caribbean and Venezuelan operations of Arthur Andersen LLP. He graduated from the University of Miami with a BBA in Accounting and is the past president of the Florida Institute of Certified Public Accountants, the Florida Chapter of the National Association of Corporate Directors, the University of Miami Citizens Board, where he was also a Trustee.
Salo is an accomplished Chief Executive Officer and Board Member with a solid track record of growth, profitability and customer satisfaction. Results driven and collaborative, Salo's distinguished career encompasses tenures in Technology, Healthcare and Financial Services industries across domestic and international markets, and private and publicly traded companies.
Most recently Salo held concurrent positions as Board Member, Managing Director and COO of the MONEX Group, a publicly traded diversified financial services organization with global operations, Operating Revenues exceeding ¥50 billion and Assets under Management exceeding ¥4 trillion. He was the only non-Japanese speaking member at the MONEX Board. Salo previously served as Board Member, Chairman, President & CEO of the TradeStation Group, one of the largest online brokers in the US, and was instrumental in the acquisition of the TradeStation Group by Monex. He expertly integrated, communicated and executed the global vision that led to TradeStation's acquisition. TradeStation has won many accolades, has the highest Net Promoter Score amongst its peers and is widely recognized as a leader in the industry. Salo was recognized by the South Florida Business Journal as one of Broward's ultimate CEO's in 2012 and he won the Ernst and Young Entrepreneur of the Year award for Florida in 2005.
Salo practiced as a CPA and Experienced Manager of Arthur Andersen LLP. He earned his Bachelor of Science Degree in accounting from The Pennsylvania State University, has taken master's level courses at the University of Miami and a 5-year participant of the Harvard Business School YPO Presidents Seminar. He is currently a member of the board of directors of the Orange Bowl Committee and a trustee for the Jewish Community Foundation of Broward County. Salo is a passionate world traveler and visited over 70 different countries.
Alex is an entrepreneur and investor.  He successfully founded and sold 2 startups, each with tenure of more than 10 years.  Since 2008, he has invested his money and energy in over 20 startups.  His investments include Beeologics, which sold to Monsanto for a 12x return in just over 3 years; Cybertinel, which sold to CyberArk for a 2.4x return in less than 1 year; and Medistem, a stem cell company that sold to Intrexon.
Alex is actively involved in several companies including Hindsight Imaging, which has breakthrough IP in hyperspectral imaging; Senecio, which has created patented aerial release devices and sex sorting automation for the deployment of sterile male mosquitoes; and MIDO Play, the leading mobile app for the Powerball and Mega Millions lotteries.  He is also an investor in Rokk3r Labs, R4 Technologies, Queue Software, Vital Beverages, Friends Beverage Group, Pipeline Workspaces, Apollo Bank, Forrest Innovations, Aero-Docks and more.
Alex graduated from MIT with an Aeronautical Engineering degree and worked on space-based lasers as part of SDI, but he quickly transitioned to the business world.  At Arthur Andersen, he gained experience in technology, healthcare, and manufacturing. Alex then joined Vitas Healthcare, where he was the head of the systems division during the company's growth years from 2 locations and $20 million in revenue to 24 locations and $250 million.  After Vitas, he was the founder and CEO of Miami-based CellIT Technologies, a software company focused on call centers, which he grew to over 150 employees and $10M in revenue before successfully selling in 2002 to form Aspect Software. Alex is also the founder and Chairman of Neutralogistics, a South Florida logistics company, which he sold to St. George Logistics.
David is a founder of Ocean Azul Partners. He has been working with entrepreneurs and investing in startups and early-stage companies for over 15-years. David provides value to founders and investors through his experience, tactical insights, strategic planning, critical thinking, innovation, and operational excellence. As a prior founder and operator, he excels at problem-solving, teamwork, and creating sustainable growth.
David is founding CFO and on the Advisory Board of ActivEngage Inc., a private B2B company innovating in live-chat software in the automotive industry for over 10-years, generating leads resulting in sales of over $15 billion. He was on the Advisory Board of DealerUps, Inc. a B2B cloud-based SaaS company (acquired by JM Family Enterprises in 2006). David developed the consumer brand BeFit Nutrition in partnership with Lionsgate (NYSE: LGE), growing the YouTube channel to over 200 million views and 2 million subscribers. He also helped establish That's It Nutrition™, one of the fastest-growing private nutrition bar companies in the U.S. that has delivered bars to the International Space Station.
David is a CPA and has attended Executive level courses at Columbia Business School. He earned a Master of Science in Taxation from Florida International University. He earned a Bachelor of Science in Business from Miami University in Oxford, Ohio, where he was a Division I NCAA athlete on a tennis scholarship. David is a passionate advocate for healthy lifestyle and nutrition. He enjoys playing tennis with his three sons and spending time with his family.
Lisette also serves as VP and Board member of LatinxVC, a non-profit organization focused on increasing the representation of Latinx professionals in venture capital, helping Latinx venture investors build their careers and networks, and improving access to capital for Latinx-led venture firms.
Prior to Ocean Azul, Lisette was a Managing Partner for Dorm Room Fund, a student-run venture capital fund that invests in student-founded startups. During her two years at Dorm Room Fund, Lisette heard over 200 pitches and her team made more than 20 investments in startups from universities in the Boston area and beyond. As a partner, she was responsible for sourcing startups, analyzing and deciding on potential investments, and providing support to portfolio companies. Dorm Room Fund has made over 350 investments that have gone on to raise $4B+.
Lisette developed an early interest in entrepreneurship and began investing in startups at age 12. Lisette's love of problem-solving and technology led her to study in Computer Science & Engineering at MIT. She spent most of her time outside the classroom engaging in the Boston startup ecosystem and playing varsity volleyball.  She served as the president of StartLabs, MIT's undergraduate entrepreneurship club, doubling the size of its team and its presence on campus.
Lisette's interest in technology combined with her passion for fitness and nutrition led her to become a certified Health Coach. Lisette is particularly excited about the potential of startups that use digital health, wearable devices, and machine learning to enable people to become aware of potential health issues, take preventative measures, and develop healthy habits.
Ryan worked for Deloitte as an external auditor for approximately 10 years. Ryan began his career with Deloitte U.S. in Miami, Florida, before transitioning to Deloitte Australia in Sydney, NSW. Ryan ended his career with Deloitte as an Audit Director in Sydney. As part of his career with Deloitte U.S., Ryan assisted multiple publicly traded clients with their yearly filing of Form 10-K and quarterly filings of Form 10-Q with the U.S. Securities and Exchange Commission. Ryan also assisted clients with initial public offerings and filing of Form S-1 with the U.S. Securities and Exchange Commission. Ryan served as an engagement team leader in the audit of U.S. Government clients and led multiple audits in accordance with the regulations of U.S. OMB Circular A-133.
While at Deloitte Australia, Ryan served as the lead audit director on multinational listed and ASX-listed clients as well as private equity-backed companies. This includes one of the world's largest seaborne thermal coal exporters, as well as one of Australia's largest coal producers. Ryan delivered audit and accounting services to large ASX-listed clients, while account managing the delivery of multidisciplinary services from across Deloitte, to clients in Australia and overseas. Outside of external audit, Ryan assisted several U.S.-based companies with initial public offerings in Australia. Ryan also led the creation of standardized audit risks and procedures for the mining industry used by Deloitte audit professionals as part of the Mining Industry Standardisation Project and served as a key recruiting contact for U.S. employees applying for a secondment in Australia through the Global Mobility Program.
Ryan is a Certified Public Accountant and a member of the American Institute of Certified Public Accountants and the Florida Institute of Certified Public Accountants. Ryan graduated from Tulane University with a Bachelor of Science in Finance and a Master of Accounting degree.
Managing Director, Fund I
Kristy is a co-founder of Ocean Azul Partners. She has been investing in and advising startup companies, founders and entrepreneurs for over 15-years. She augments Board decisions and enhances executive team performance by creating visibility to facilitate financial investment decisions, delineating critical factors to accelerate the development cycle, and maximizing resources by streamlining compliance and risk management processes.
Kristy has a broad base of experience in financial, tax and accounting disciplines, spanning a wide range of industries, from technology to real estate. As the CFO of a $1 Billion real estate development project, Kristy created diverse financial models to capture and capitalize on unique investor parameters. As a leader and investing partner for an ultra-high-net-worth family office, Kristy identified private equity investment opportunities, oversaw the due diligence process, analyzed the deal terms and documentation, and executed the investment plan.
Kristy earned a Bachelor of Business Administration in Accounting, and a Master of Science in Taxation from Texas A&M University. She practiced as a CPA in the Big Four accounting and consulting firms of Arthur Andersen LLP, KPMG and PriceWaterhouseCoopers for over 10 years. She is currently active on the Advisory Board of Itopia and Dade Systems and has served on the Boards of Plymouth Congregational Church Foundation and Women in International Trade.